Portman's pocket door systems have been designed to provide an unrivalled size and design flexibility to make the most of the space available and create a unique visual statement. Our kits are modular with two heights and three widths as standard. The necessary wall aperture dimensions for the single or double Portman pocket door kits can be derived from the calculations and elevations shown bottom right.
Portman Standard Kits - our standard P7001 kits include top fixed door brackets and poplar door linings as well as all the structural components for creating your pocket. 
To choose, decide what is your constraining factor. Either the door leaf size OR the available wall aperture will decide what should be specified. Use the calculations below to derive the correct wall aperture or door leaf. For doors over 2700mm high or 1500mm wide, please contact the sales office. Self-closing/damper units and furniture as well as touch latches can be found in accessories. For doors over 2400mm high the use of the P5700 reinforcing kit is recommended.  To see how easy Portman is to install, please see the Portman installation instructions.
Nb. We now offer a version of this kit which allows for a shadow gap around the door opening rather than architrave, for details please contact the sales office.
Image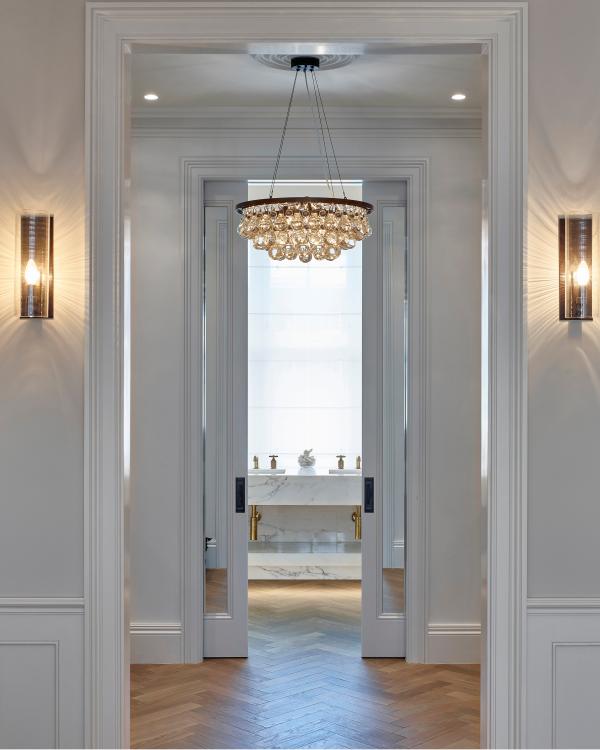 Dimension Image
Image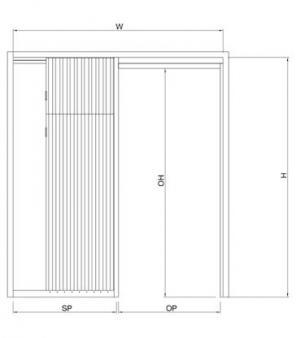 Dimension Description
Dimensions
max door thickness 44mm)
Single Door
Wp = Door panel width
Hp = Door panel height
W = (2Wp)+66mm
H = Hp+85mm
Sp = Wp+31mm
Op = Wp-23mm
Oh = Hp-4mm
Double Door
Wp = Door panel width
Hp = Door panel height
W = (4Wp)+94mm
H = Hp+85mm
Sp = Wp+31mm
Op = (2Wp)-34mm
Oh = Hp-4mm