The Portman telescopic doorset effectively allows two door leaves to be concealed within one wall (on the same side) and almost a double span to be traversed.
The door leaves are linked via a toothed belt and pulley system so as the user extracts the first door leaf the second is gently brought along with it and conversely the opposite happens when the doors are concealed back within the wall. The doorset is non handed and timber framing is supplied offset, as only one leaf makes contact with the closing jamb. Due to the location of the door top components, self closing, soft close and touch latches are not suitable for use with telescopic kits. For aesthetics it is worth considering having a return on the second door leaf to conceal the gap when both doors are in the closed position. For further guidance please contact the sales office.
For doors over 2400mm high the use of the P5700 reinforcing kit is recommended.
Image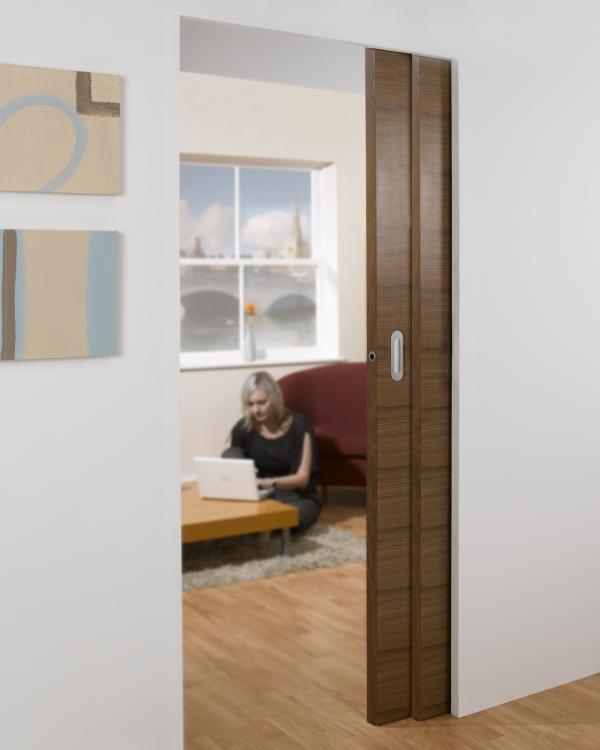 Dimension Image
Image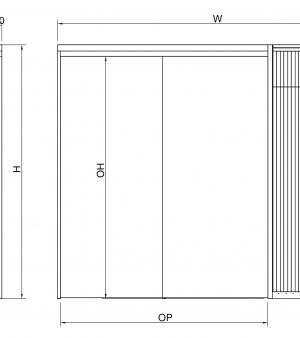 Dimension Description
Dimensions
max door thickness 44mm)
Single Door
Wp = Door panel width
Hp = Door panel height
W = (3Wp)+7mm
H = Hp+85mm
Sp = Wp+2mm
Op = (2Wp)-58mm
Oh = Hp-4mm
Double Door
Wp = Door panel width
Hp = Door panel height
W = (6Wp)-22mm
H = Hp+85mm
Sp = Wp+2mm
Op = (4*WP)-102
Oh = Hp-4mm