Flush door brackets allow an almost full height leaf to be used, creating a stark visual statement by bringing the door head into closer proximity with the ceiling, so essentially only a shadow gap is left between the leaf and the track assembly. Portman supply a head profile as standard to fully conceal any light gaps, this may however be left off if desired. 
Nb. Suits door leaves 38-44mm thick only
For doors over 2400mm high, the use of the P5700 reinforcing kit is recommended.
N.B. Self closing or dampers and simultaneous opening (for double doors) cannot be specified with flush brackets due to the close proximity of door head to framing.
Image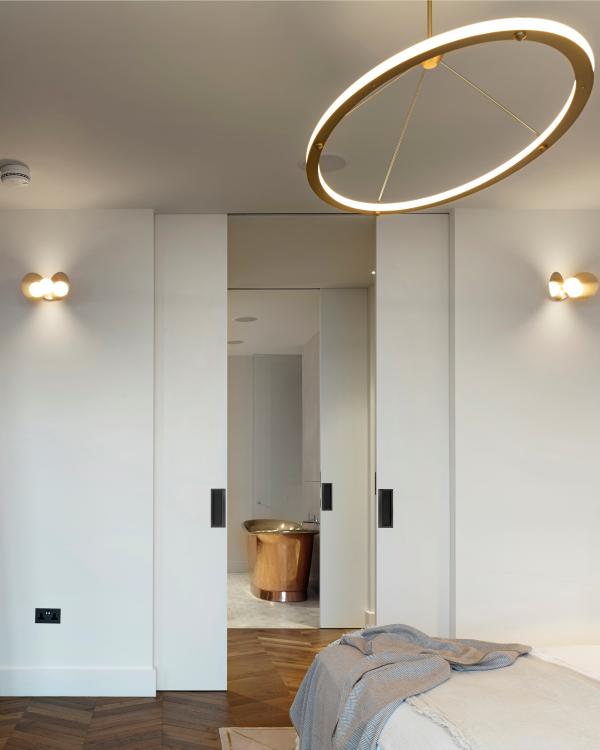 Dimension Image
Image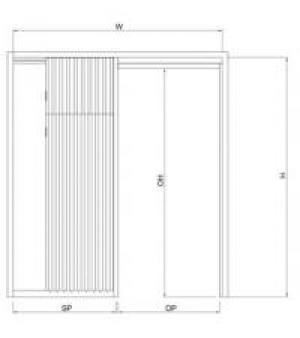 Dimension Description
Dimensions
max door thickness 44mm)
Single Door
Wp = Door panel width
Hp = Door panel height
W = (2Wp)+11mm
H = Hp+60mm
Sp = Wp-9mm
Op = Wp-23mm
Oh = Hp+15mm
Double Door
Wp = Door panel width
Hp = Door panel height
W = (4Wp)-16mm
H = Hp+60mm
Sp = Wp-9mm
Op = (2Wp)-34mm
Oh = Hp+15mm