Standard plasterboard lined frames
Portman can provide both single and double door systems that are certified for use with FD30 door leaves. The Portman FD30 system allows for an approved* single door leaf of up to 2700mm high and 1500mm wide to be installed and any standard FD30 44mm thick door leaf up to 2150mm high and 1030mm wide. This unique assembly opens up new opportunities to create innovative designs and room layouts freedom of choice allows once again for a consistent aesthetic with other doors in the vicinity.
Profiled timber door linings come complete with intumescent fire seals and pre-cut and formed plasterboard sections to be wrapped around the sub-frame, all providing exceptional fire integrity.
*Kits for use with single door leaves over 2150mm high & 1030mm wide and kits for use with double door leaves over 2100mm high & 980mm wide must incorporate door leaves of a specific construction type to comply with the scope of certification, please see attached assessment or contact the sales office for further information.
Shadow gap and timber lined frames
For the hardwood timber lined option please add the -SG suffix to the standard part ref. Please see installation guidance for aesthetic details on this kit 
For doors over 2400mm high the use of the P5700 reinforcing kit is recommended.
***FIRE RATED KITS MUST BE INSTALLED AS PER FITTING INSTRUCTIONS TO COMPLY WITH CERTIFICATION***
Image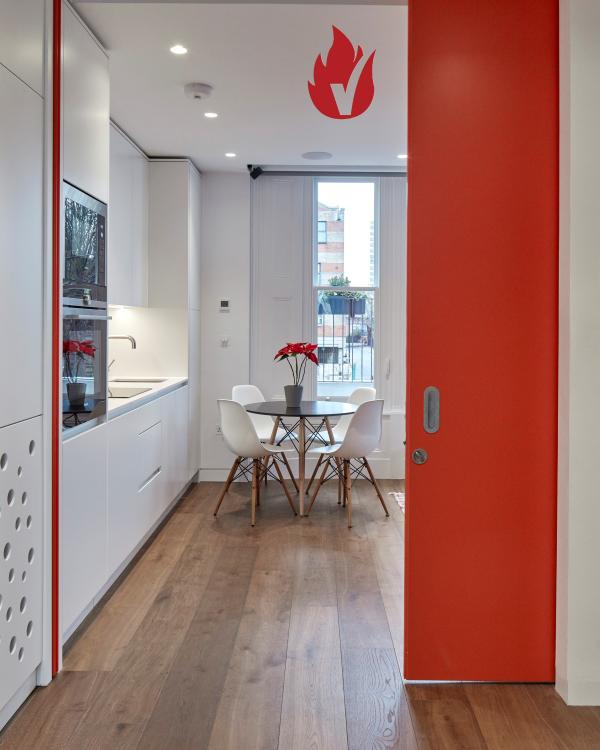 Dimension Image
Image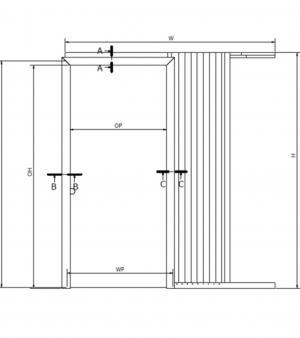 Dimension Description
Dimensions
max door thickness 44mm)
Single Door
Wp = Door panel width
Hp = Door panel height
W = (2Wp)+20mm
H = Hp+85mm
Sp = Wp+31mm
Op = Wp-95mm
Oh = Hp-33mm
Double Door
Wp = Door panel width
Hp = Door panel height
W = 4Wp
H = Hp+85mm
Sp = Wp+31mm
Op = (2Wp)-131mm
Oh = Hp-33mm